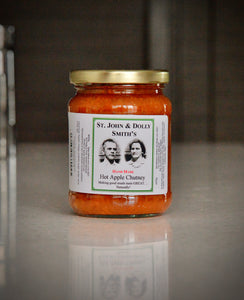 As Covid travel restrictions are now being eased, I am pleased to inform you that the store will soon be accepting orders again.
To receive news, special offers, discounts etc. please enter your email address AND SUBSCRIBE now on the Home Page.
Don't delay, SUBSCRIBE TODAY! 
A tangy apple chutney made from British Bramley apples. It's delicious with cold meats and harder varieties of cheese.
No artificial colouring
No artificial preservatives
Suitable for vegetarians and vegans.
Contains no dairy.
After opening, refrigeration is optional. It is not essential.
Contents: e325g
Ingredients: Bramley Apples, sugar, sultanas, garlic, ginger, vinegar, salt, chilli powder