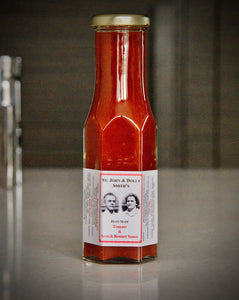 As Covid travel restrictions are now being eased, I am pleased to inform you that the store will soon be accepting orders again.
To receive news, special offers, discounts etc. please enter your email address AND SUBSCRIBE now on the Home Page.
Don't delay, SUBSCRIBE TODAY!
A "fruity" sauce with that famous Scotch Bonnet kick! This is essentially a "mix" of my Hot Tomato Sauce and "Old Nick" Scotch Bonnet Sauce and is a perfect combination of the two sauces.
No artificial colouring
No artificial preservatives
Suitable for vegetarians and vegans.
Contains No dairy.
After opening, refrigeration is optional. It is not essential.
Contents: e250ml

Ingredients: Italian Plum Tomatoes, Scotch Bonnet Chillies, sultanas, garlic, ginger, vinegar, sugar, salt